Creamy, herby homemade ranch dressing with a little kick of chipotle peppers, courtesy of the most magical place on earth!
I'm just gonna say it: homemade (or restaurant-made) ranch is way better than bottled. Like, WAY better. And this one is a KEEPER.
It has the classic herby, slightly garlicky creaminess you know and love, but with a little added zip of chipotle peppers. The chipotles add just a hint of smokiness and spice, and really kick this dressing up a notch.
The reason I called this Magical Chipotle Ranch Dressing is because the recipe came from a restaurant in the Magic Kingdom at Disney World. And of course, a recipe from the Magic Kingdom just has to be magical!
We ate lunch at The Diamond Horseshoe when we were at the park with Pete's family back in April, everything was served family style and we all went bananas over this salad dressing. Like...even after we finished the salad we kept the boats of dressing on the table to use with other parts of the meal. So, we went out on a limb and asked our server if we could have the recipe, and true to Disney's reputation for exceptional customer service...they gave it to us!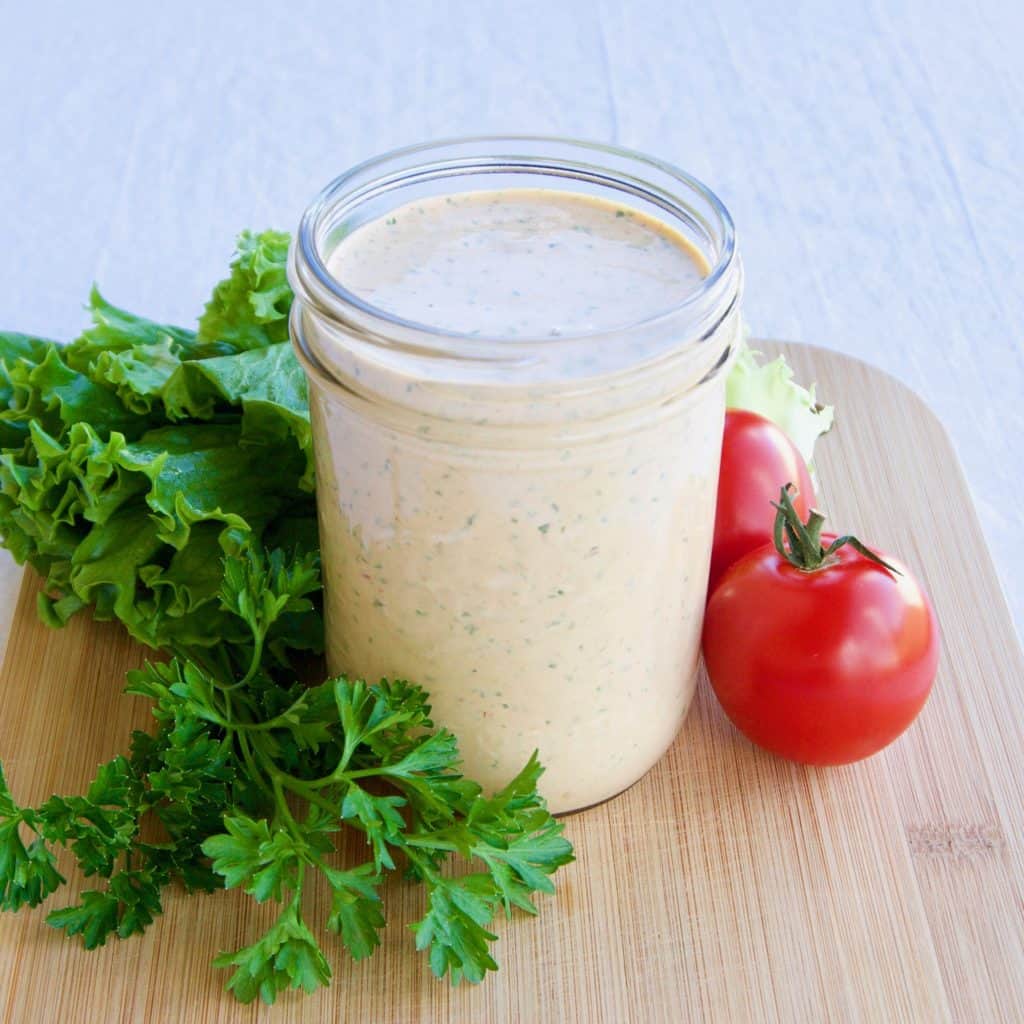 I'm sure I'm showing some of my Midwestern-ness here (since it's a relatively well known joke that us Midwesterners are OBSESSED with ranch), but this dressing is delicious on SO many things. Try it on this BBQ Chicken Chopped Salad, as a veggie dip, on pizza, breadsticks, chicken wings, fries...I could go on but I think you get the picture.
Fun fact: did you know that ranch dressing is far and away the most consumed salad dressing in the US?
So I guess us Midwesterners aren't THAT crazy...
You are going to love this magical chipotle ranch dressing. Yummy noises await you!
Magical Chipotle Ranch Dressing
Creamy, herby homemade ranch dressing with a little kick of chipotle pepper, courtesy of the most magical place on earth!
Ingredients
1

cup

mayo

1/2

cup

sour cream

1 1/2

Tbsp

fresh lime juice

1

tsp

Worcestershire sauce

1/4

cup

fresh parsley,

minced

2

Tbsp

fresh chives,

minced

2

cloves

garlic,

pressed or minced

1/4

tsp

paprika

1/4

tsp

salt

2

individual

chipotle peppers in adobo sauce

1/2

cup*

buttermilk
Instructions
Combine all ingredients except buttermilk in a food processor or blender and start to blend. Slowly add the buttermilk and continue to puree until smooth. Store in an airtight container in the refrigerator until ready to serve (I recommend refrigerating for at least 2 hours before serving).
Recipe Notes
*You can add more buttermilk to the dressing if you'd like it to be thinner/more pourable. The dressing will thicken up a little as it chills.
I personally find that the dressing tastes even better once it's had some time to hang out and the flavors get to know each other, so I recommend making this ahead of time and storing it in the fridge until you need it.