Creamy avocado, fresh tomato, crunchy onion, bright cilantro, and a squeeze of fresh lemon come together to make the BEST classic guacamole. 
Guacamole: so delicious, so simple, and so loved.
Seriously, it is SO SIMPLE to make at home! Just a few ingredients, chop a little, stir a little, and you have fresh guacamole that is WAY better than store-bought.
The key to amazing guac is using ripe avocados - you want them to have just a tiny bit of give when gently squeezed. Avocados can be tricky and I feel like you never really know if they're ripe until you cut into them, so I usually buy 1 or 2 extra just in case. And if you end up with extra avocado, just make Simple Tuna Avocado Toast! Win-win!
Is there anything more beautiful than cutting open a perfectly ripe avocado?
Just gorgeous. Makes me so happy.
For the longest time, my guacamole "recipe" was not so much a recipe as it was a list of ingredients and a lot of taste-testing. Which is a really fun way to make it...but 1) not so easy to share, and 2) a really good way to end up with half as much guacamole as you intended to make because you ate so much of it taste-testing.
So I finally took some time to actually measure how much of everything I put in! I know, it's a tough job but somebody has to do it. I do this for you, people!
Kitchen tip: I know a lot of people say to cut the avocado in the skin and then scoop it out with a spoon, and that's a totally valid method, but I feel like sometimes you end up leaving some of the greenest part of the avocado behind still stuck in the skin. I'm personally more partial to peeling the avocado; I just plop it on the cutting board cut side down and use my fingers to gently peel back the skin, and then dice! Voila - beautiful clean pieces.
In my opinion, to make the best classic guacamole you need it to be really chunky. So instead of mashing the avocado, I just add the diced avocado right in the bowl with all the other ingredients and stir until it's all combined and creamy!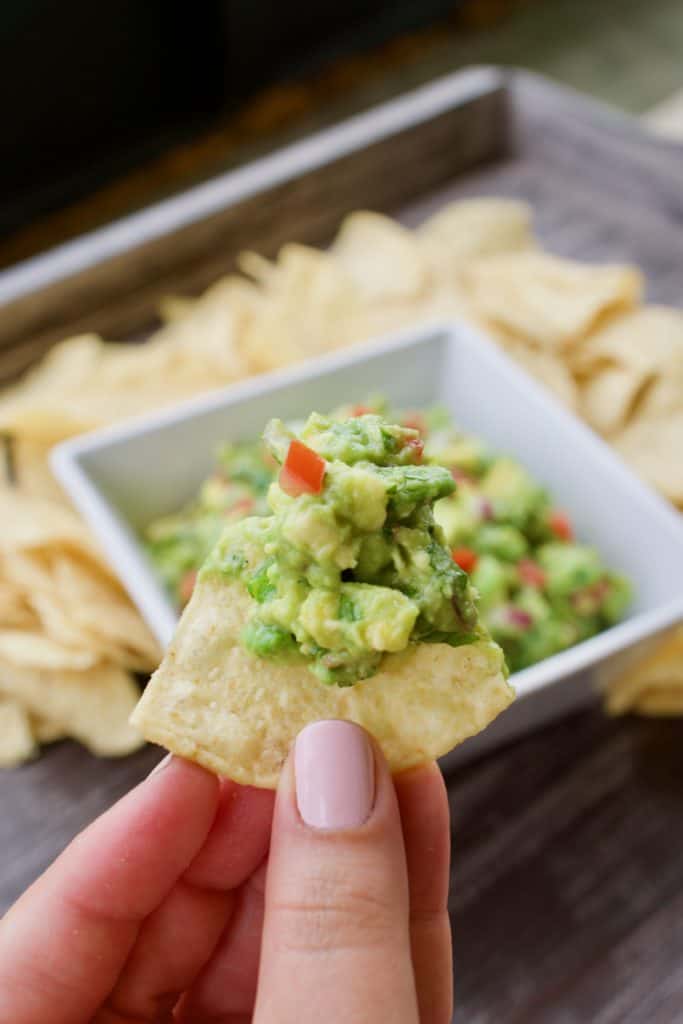 It's great on tacos, burritos, sandwiches, burgers, or good old classic tortilla chips.
Yummy noises await you!
The Best Classic Guacamole
Creamy avocado, fresh tomato, crunchy onion and bright cilantro come together to make the BEST classic guacamole.
Servings
:
1
1/2 cups guacamole
Ingredients
2

large ripe avocados,

diced

1/4

cup

tomato,

seeded and finely diced

2

Tbsp

red onion,

finely diced

1

Tbsp

fresh jalapeño (more or less to taste),

finely diced

1 1/2

Tbsp

fresh cilantro,

chopped

1

Tbsp

fresh lemon juice

1/2

tsp

kosher salt

1/4

tsp

fresh ground pepper
Instructions
Add all ingredients to a large bowl and stir to combine. Serve with tortilla chips.
Recipe Notes
Leave the seeds & ribs in the jalapeño for spicier guacamole, take them out to make it milder. The spice level of peppers can vary, so start with less and add more!
Be sure to seed your tomato and only use the meaty flesh, or it will water down your guacamole.
Air causes avocado to oxidize & turn brown quickly, so store leftover guacamole in an airtight container with a double layer of plastic wrap pushed right up against the surface to keep it fresher longer.